4 Ways to Keep Your Designated Office Space Clean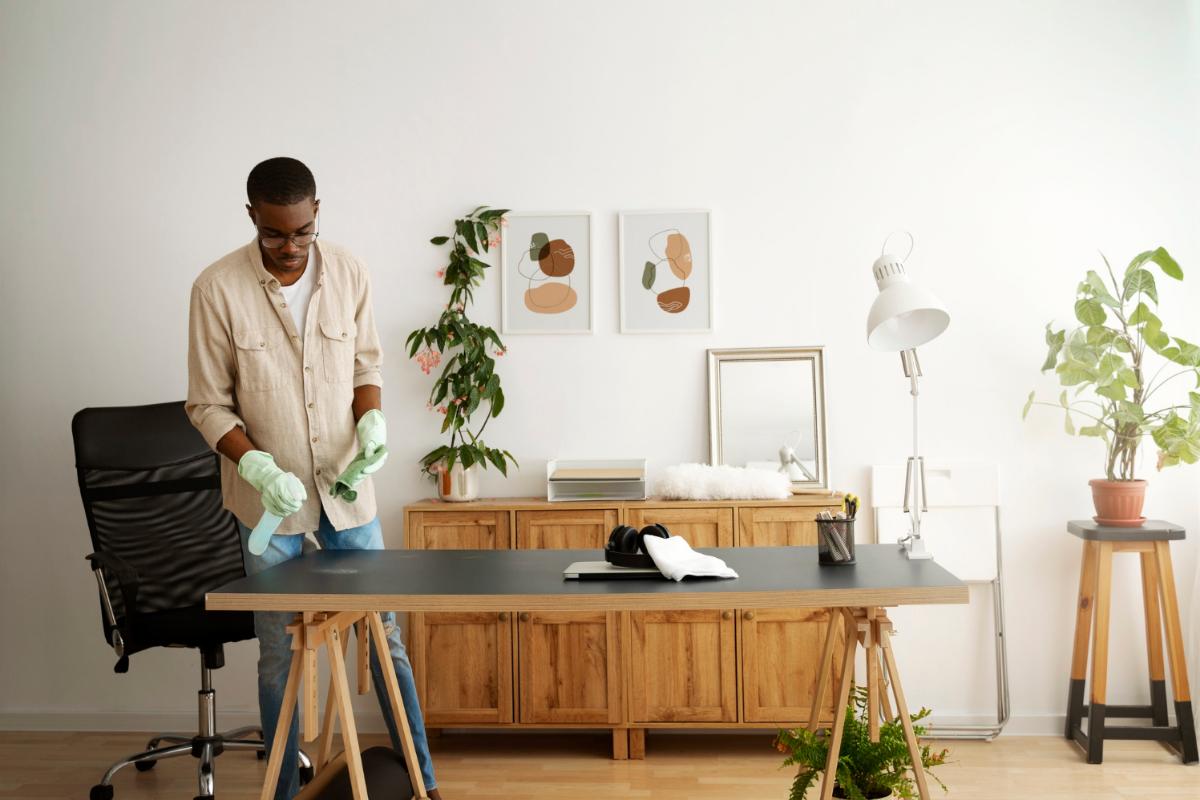 Many employees are given a certain amount of space in the office to perform their daily tasks. These spaces range from shared desk areas to large cubicles to full offices. Often times, the role you play in your company will determine the amount of space you are given in your office. No matter how much space you have, you need to take the time to clean and tidy your space so you can achieve maximum productivity each day. As experts in office cleaning in Los Angeles, we understand the ways to achieve cleanliness and organization at work. These are a few tips to help you keep your designated office space clean.
Declutter Your Desk
Take time to clean off your desk surface each day. This habit can dramatically impact the cleanliness of your space, and it can also lead to increased productivity. When you constantly have piles of papers, empty coffee cups, file folders, and wires scattered across your desk, you may feel overwhelmed or overstimulated by the appearance of your space. Keeping it tidy is a great way to also prevent buildup of dust, allergens, and grime.
Create a Paper Organization System
It is likely that you are always printing out different documents, papers, and files to display at meetings, remind yourself of important appointments, or just collect to file away for later. If you can, we urge you to go paperless to avoid these messes. However, if your office is not paperless yet, you should come up with a proper paper organizational system. Organizing your papers will make it much easier to keep things clean, which will also aid in locating the right paper when you need it.
Keep Sanitizer and Cleaner Handy
Simple habits, like sanitizing your hands after handshakes or eating, can go a long way when it comes to workplace hygiene. By keeping hand sanitizer directly on your desk, you can easily adopt this habit without needing constant reminder. Also, consider keeping some wet wipes or all-purpose cleaner near your desk so that you can make clean up at the end of the day a simple job. When you need to get up from your desk to retrieve the cleaning supplies, these extra steps can make the job more cumbersome, which decreases its likelihood.
Avoid Eating at Your Desk
As a rule of thumb, you should avoid eating at your desk. Although it may seem tempting to answer some of those lingering emails while taking a few bites of your sandwich, these habits can actually cause your desk to become quite messy. Crumbs and food pieces can cause more than just a little mess, as they can lead to mold growth, ants, and other pests. Keep the food in the break room or get out of the office to enjoy your meals.
When you are looking for professional office cleaning in Los Angeles to keep your space tidy and safe, trust the team at S & W Janitorial Services Inc for all your needs. Contact us to get on our cleaning schedule today!